The Founder: Mr. Zhang Jun

---
1986, Mr. Zhang Jun joins China Min-Metals Corp. and begins to guide Shanxi Factories to international business.
---
1988, SYI is founded by Mr. Zhang Jun.
---
1997, SYI establishes its first manufacturing plant – SYI Foundry.
---
2001, SYI acquires Xinxing Pipe Fittings Co. Ltd.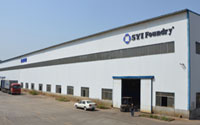 ---
2002, SYI Forging Factory is purchased.
---
2004, SYI forms its first overseas subsidiary – SYI (US) LLC in Arizona, US. SYI begins producing by Automatic Moulding Lines.
---
2005, Mr. Zhang Jun is named Vice Chairman of CCCME, leading Chinese Foundries to response EU Anti-Dumping suit.
---
Managing Director: Mr. Zhang Fan

---
2008, Mr. Zhang Fan takes over his father's adventure.
---
2009, SYI acquires Ductile Iron Pipe Plant(Subsidiary Website: www.sunspipe.com).

---
2010, SYI opens its worldwide business center – SYI Group Corporation in Hong Kong. SYI Pipeline Corporation is built up.
---
2012, SYI OEM Division and SYI Aluminum Division are established.
---
2016, SYI introduces production and management technology from HINODE-Japan.
---